Regular price
$111.00 USD
Regular price
Sale price
$111.00 USD
Unit price
per
Sale
Sold out
Introducing the Root Chakra Aligned: Red Jasper Necklace - Embrace a Deeper Connection to Life
Experience a profound sense of connection with life as you adorn yourself with our exquisite Red Jasper Necklace. This meticulously crafted piece serves as a powerful tool to align and activate your root chakra, fostering a profound sense of grounding, stability, security, and stamina. The profound benefits of wearing red jasper extend beyond mere aesthetics; they resonate deep within, igniting your drive and passion.
Within the intricate energy system of the body, the Root Chakra reigns supreme as the center of safety and security. It governs your sense of stability, drawing from the roots of your family lineage, ancestral wisdom, financial well-being, and the unwavering power of your motivation and intention to manifest your purpose. Building a solid foundation is pivotal in creating a life of abundance and fulfillment, and the Root Chakra plays a crucial role in establishing this groundwork.
Unveiling the true potential of your Root Chakra, the Red Jasper Necklace acts as a sacred conduit, allowing you to harness its transformative energy. By wearing this radiant gem, you create a harmonious resonance with the primal forces of the Earth, empowering you to feel safe and secure in your journey of self-creation. As the necklace rests upon your skin, it serves as a constant reminder of your inherent worthiness and capability to manifest the life you truly desire.
With its captivating hues and timeless elegance, the Red Jasper Necklace not only adorns your physical being but also acts as a talisman of empowerment, enhancing your connection to the Earth's life force. This sublime gemstone exudes fiery energy, instilling within you a profound sense of determination, courage, and unwavering passion. Embrace the transformative power of red jasper as it infuses your life with a renewed sense of purpose and vitality.
Elevate your existence and embark on a journey of self-discovery and abundance with the Red Jasper Necklace. It is not just a beautiful accessory; it is a symbol of your unwavering commitment to create a life that resonates with your true essence. Let the red jasper necklace be your steadfast companion as you navigate the path towards fulfillment and embrace the extraordinary life you truly deserve.
*Note: Each Red Jasper Necklace is meticulously crafted with love and care, ensuring its energy is attuned to your unique journey.
Materials

Red jasper necklace - 8mm red jasper, red agate, black onxy, clear quartz, smokey quartz, brown maroon tassle, siver cone, black lava bead
Shipping & Returns

SHIPPING:

USA: Allow 2-3 weeks for your item(s) to be delivered. All items are handmade and delicate. 

INTERNATIONAL: Allow for 3-4 weeks for your item(s) to be delivered. All items are handmade and delicate. 

If you need an expedited service, email kerryarmstrongyoga@gmail.com

RETURNS: 

We have a 14-day return policy, which means you have 14 days after receiving your item to request a return.

To be eligible for a return, your item must be in the same condition that you received it, unworn or unused, with tags, and in its original packaging. You'll also need the receipt or proof of purchase.

To start a return, you can contact us at kerryarmstrongyoga@gmail.com. 
Care Instructions

When caring for your item, be gentle. Don't wear it in water. Lay flat or hang when not wearing. Wipe stones only with soft lint free cloth. Do not pull on your item with force of any kind.
Share
View full details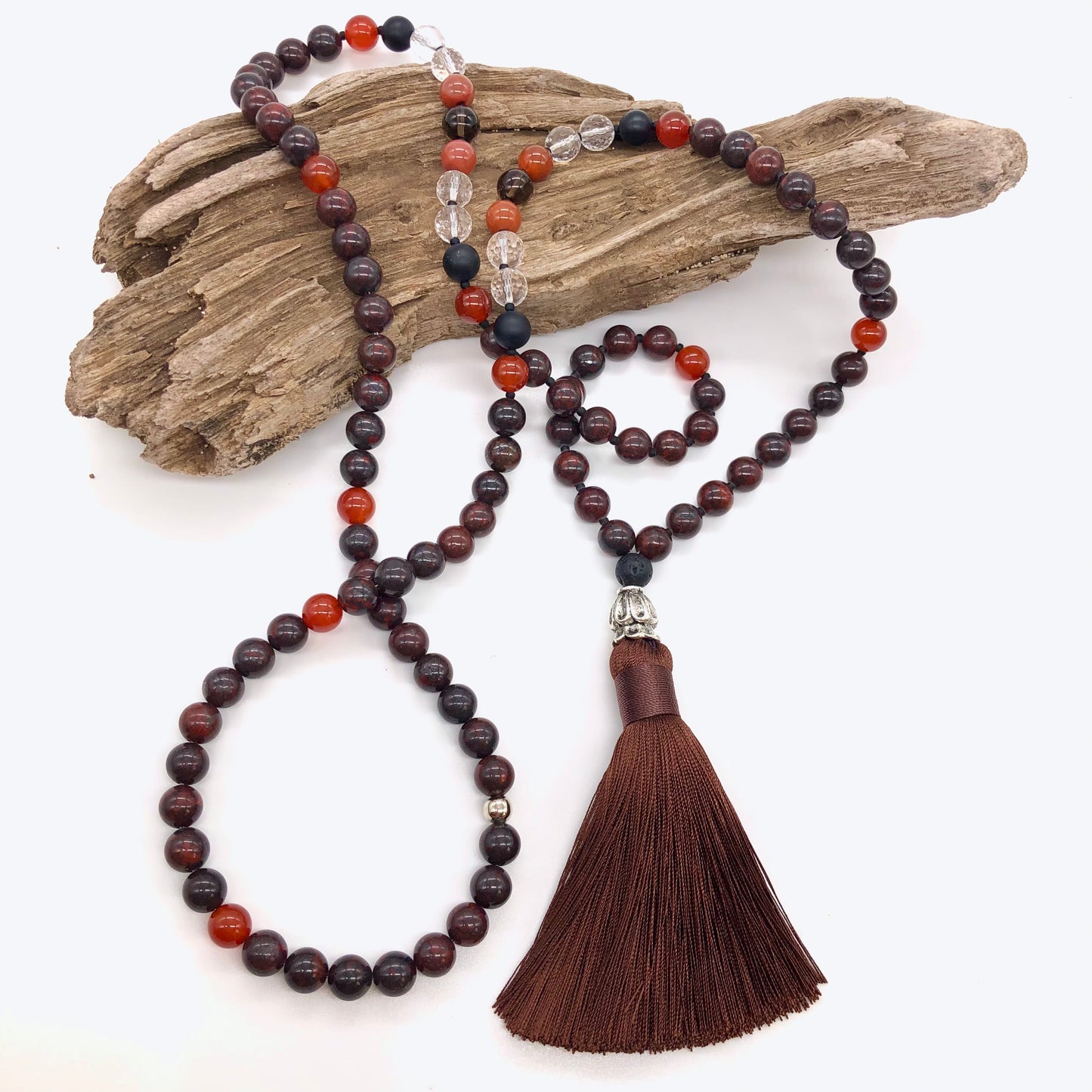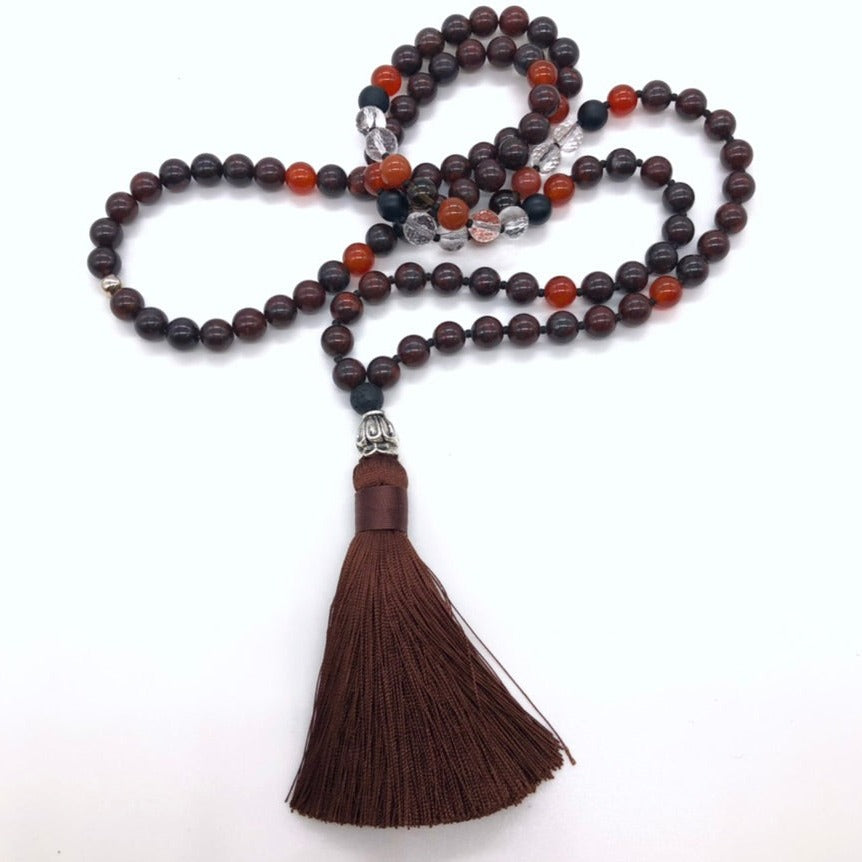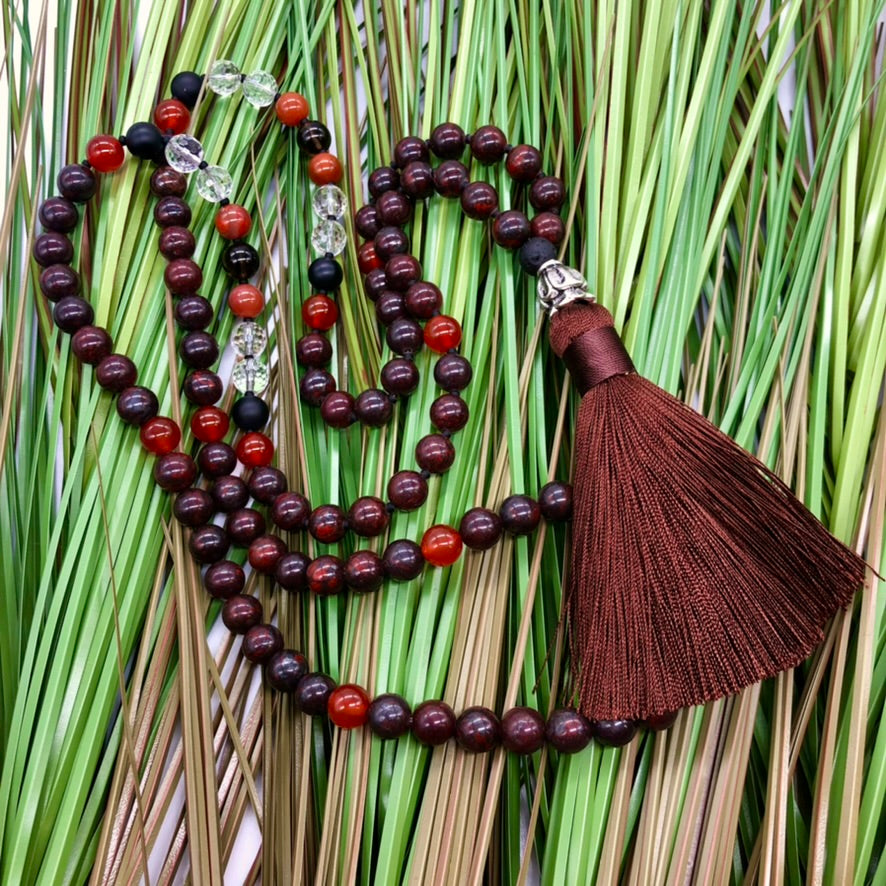 Root Chakra Affirmation
"I am safe, secure and supported"
The Red Jasper Necklace also known as the root hakra mala is great for anyone looking to enhance their positive relationship with money, power, and freedom. The root chakra helps you to feel anchored in all that you do so you can keep growing with a solid root system underneath you.
If you are dealing with an imbalance in your root chakra and suffer from Low Back Pain, Insecurities, and have Money Issues, this red jasper necklace would be great to help rebalance those ailments.
WHAT LOVE AND INTENTION GOES INTO EACH HANDMADE ITEM IN HAWAII?

All of our malas are strung with love and intention. We use high-quality, all natural, semi-precious gemstones that have been blessed in the Hawaiian full moon light. The moon magic allows the crystals to charge, enhancing their healing properties. We chant uplifting mantras into each handmade mala, infusing the crystals with healing frequencies.